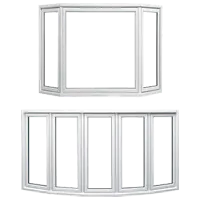 Bay & Bow Windows Installation
When one thinks of a bay window, images of a scary haunted house come to mind. But if you're looking to renovate and upgrade your home you may wish to choose between a bay or bow window.
A bay window may be a good choice especially if your room is limited on space. The reason for this is that a bay window is built to project outward from an outside wall. The fact that it juts outward gives your room more interior space.
Upon first inspection, it may appear that bay and bow windows look very similar. However, there are some differences.
Bay Window has three openings, available in angled projections.
Bow Window will generally as a rule have four or five openings.
A bay window will have the main, focal picture window at its centrepiece, with two other smaller windows on either side laterally, left and right. Three openings with angled projections.
With a bow window, its structure is curved, which when viewed from the outside of the property presents a rounded appearance.
Both of these designs have an old-world, vintage aesthetic feel about them. Terms used to describe these windows are "four-lite bow" or a "five-lite bow."
The fundamental design of a bay or bow window is that they are both built with an arc. Depending upon the number of windows that are used to construct each unit, the shape will slightly vary.
Typically being built using 3 windows, the bay window will have one casement window on each side, and one large main picture window positioned in the middle. While later establishing their mark in Victorian architectural design, bay windows have been around long since medieval times. As such, they are very stylish and most popular today.
Thanks to its front-and-centre picture window design, the bay window offers an unobstructed panoramic view of the outdoors. The two side windows panes are angled at 30 to 40 degrees to the centre of the picture window. A trademark design that always stands out as a main characteristic of the bay window is that the three windows aren't typically the same size: the centre window is always the largest, with the lateral side windows being up to a quarter of the size of the primary main focal window. Install bay windows, they are perfect for hanging out to read a book, adding extra seating or just simply creating more space within your home. The cozy, comforting warmth you'll feel makes coming home after a long day at work all the more enjoyable and welcoming.
While they may look alike, from a homeowner's design perspective, both will do much to open up a room and give it space to "breathe". With this appearance of additional space, more light will be let into the room making it pop with glamour and come to life with a welcoming warmth.
In a design sense, the angular lines and flat planes of today's modern bay window are often considered more appropriate aesthetically for contemporary modern homes. Whereas the semi-circular outer structure of the bow window is ideal for any architecture style that smacks of the stoic Victorian confidence and elegance. Naturally, either type is perfectly acceptable for just about any style home. It all comes down to your own personal preference as the homeowner.
The bay window adds more interior floor space by protruding outward from the building's main exterior wall space. Having more glass panes than bay windows, bow windows always allow more light to pass into the room seeing as they have more glass panes when compared to the bay window counterpart. The design of a bay window will only have three panels of glass and as such, they are rarely as wide as a bow window.
If you're looking for something a little different away from the norm, a unique design is having the bow window wrap around the corner of the building. Utilizing this design element forms a unique turret shape on the outside corner wall and an enticing cozy nook on the inside. And with the right type of interior lighting, that cozy nook will look quite dramatic. And when viewed from the inside, a view from two sides of the home are allowed.
As a homeowner, you'll have the versatility of options available to you.
Three-lite window bow
Four-lite window bow
Five-lite window bow
Six-lite window bow
Bay Windows Angle Options
25° angle
35° angle
45° angle
Exterior:
White
Beige
Boone Brown
Brown
Cocoa
Clay
Hunter Green
Redwood
Interior:
White
Beige
Light Oak
Medium Oak
Cherry
Walnut
Hardware Options:
White
Beige
Brown
Bright Brass
Antique Brass
Satin Nickel
With a regular same-sized window opening, the cost of a bow window will run approximately 2.5 times more due to the fact that a bow window isn't a single-window design. As such, the installation of a bow window will be more inherently complex. Often times, a custom-made shell will be constructed to fit with custom windows. Also, bow windows are more complex than a bay window installation. To properly seal out water and air, a bow window installation will require a soffit tie-in or a new hip roof.
Homeowners have found that since the installation of their new bay or bow window more light comes into their home and seems to expand the space of the room where the bay/bow window was installed. In general, homeowners felt that it was a very affordable home enhancement.
Make sure that the windows come energy efficient certified. Air leaks will have a costly impact on your utility bill. If installed correctly by qualified professionals, the windows will eventually pay for themselves in a few years in the amount of money you'll save on your bill. You'll be adding charm and beauty to your home and raising the value on your property. Looking good and saving money in the process is definitely a win situation.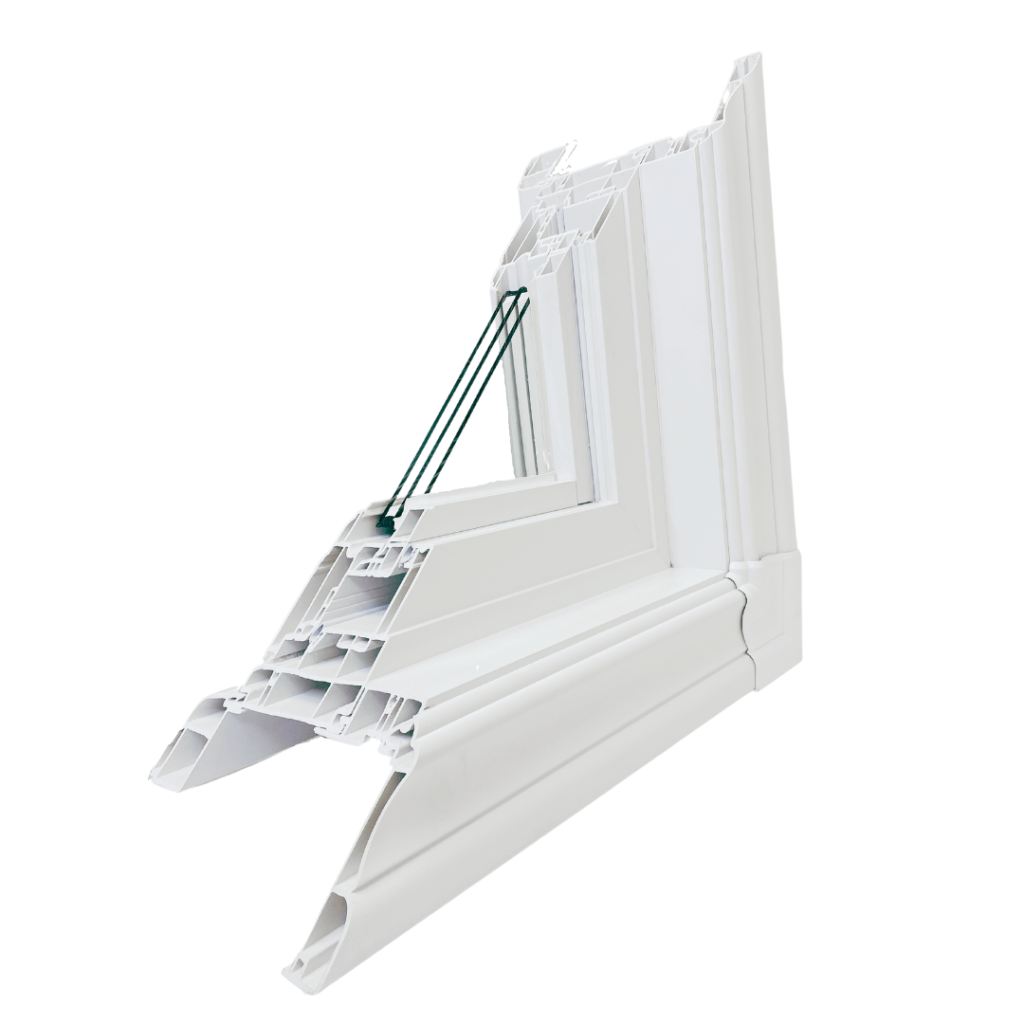 At Canglow, we are offering you 100% Lead-Free Unplasticized Polyvinyl Chloride or uPVC windows. These windows are extremely strong and will last a very long time while saving you a lot of money on your energy bill.
Thermal & Energy Efficiency
Our windows have the highest number of internal air chambers, giving you the very best insulation and sound-blocking abilities while providing the best thermal and energy performances from any window on the market.
Our windows do not require window frames, sealants and adhesives making them higher in performance and so much nicer to look at. Our windows are totally waterproof and airtight.
Unit has 13/16″ overall thickness. We offer multiple options for glazing and thickness depending on the model.
We service all the areas in Alberta and Northwest Territories from Red Deer to Yellowknife. If you live anywhere within this area, you can count on our expertise for all of your windows and doors needs. Our head office is located in Edmonton.
We provide a variety of interior vinyl trims for vinyl windows for an elegant, adaptable look. We have a combination of advanced technology along with the best materials that are not only durable and flawless but will retain their colour for years to come. We offer a variety of standard finishing options including wood stain, contemporary and classic rosettes.
We provide window jambs in four sizes to give you a seamless window installation that is perfect. For added resilience, we provide wood jamb extensions, frame moldings, and corner blocks for great longevity. These interior fittings are made from the highest-quality, durable Lead-Free PVC powder compound that requires absolutely no maintenance.
Our quality brick molds are made from a very long-lasting compound uPVC powder that is designed to withstand the harshest elements throughout the year. Our brick molds are made from maintenance-free materials that are available in a variety of colours and sizes for great longevity and beautiful curbside appeal.
Our double-paned windows with clear glass provide optimum noise protection compared to single pane glass. In terms of temperature resistance, it promotes the easy flow of hot and cold air from both inside and outside.
Low emissivity glass, or Low-E glass, is a strategic choice for lowering your home energy costs all-year-round. In winter, Low-E glass cuts down on heat loss by reducing radiant heat transfer and reflecting interior heat back into your room, where it needs to be. It also efficiently dispenses the sun's rays—allowing more of them to enter the home as usable solar energy. This provides extra warmth while minimizing reliance on heating, which can account for up to 60% of a home's energy costs.
In summer the same principle applies but the effect is reversed. Low-E glass windows help reduce the flow of hot air into the cool interior. This specially formulated coating also reduces the effects of the sun's ultraviolet (UV) rays, which are a leading cause of premature fading and degradation of fabrics and carpeting.
Triple-pane glass windows are the most energy-efficient models on the market. With the extra pane of glass, they moderate temperatures inside for optimal comfort in every season—during winter, cold air remains outside and warm air inside, while in summer the results are reversed.
Special coatings are often applied to the glass to eliminate solar heat gain and boost its energy efficiency. The extra pane of glass truly provides a new level of insulation, airflow and energy efficiency.
World Class Energy Efficient Glass Units
DraftLOCK™ Polymer Spacer System
100% Eco-Friendly & Recyclable