Awning Windows Installation and Replacement
Accounting for substantial heat loss in cold weather and heat gain in warm weather, windows can be a costly feature of a home. That's why it's so important to make sure you have a quality energy efficient window professionally installed. According to a recently published article, single-pane windows, found practically in almost every home throughout Canada, are the most extreme in terms of energy-inefficiency and also in costing you money.
Here are identifying features that illustrate the distinct ways you can have heat loss through your windows:
Convection is when heat rises and cool air sinks due to their different relative densities. The process is when the cold air at the interior surface of a frosty windowpane flows toward the floor, in turn sucking more air behind it toward the window. Eventually, this movement causes the overall room temperature to drop. This is why it's so crucial to eliminate the flow of air in the vicinity of that window.
Radiation occurs when heat energy flows from a warm object toward any cooler object close by until equilibrium is achieved. Through radiation, a home can lose up to 65 percent of its heat through this kind of heat loss process.
Conduction is when heat passes through the window glass.
Infiltration is when there is direct air leakage meaning air is escaping through gaps along the edges.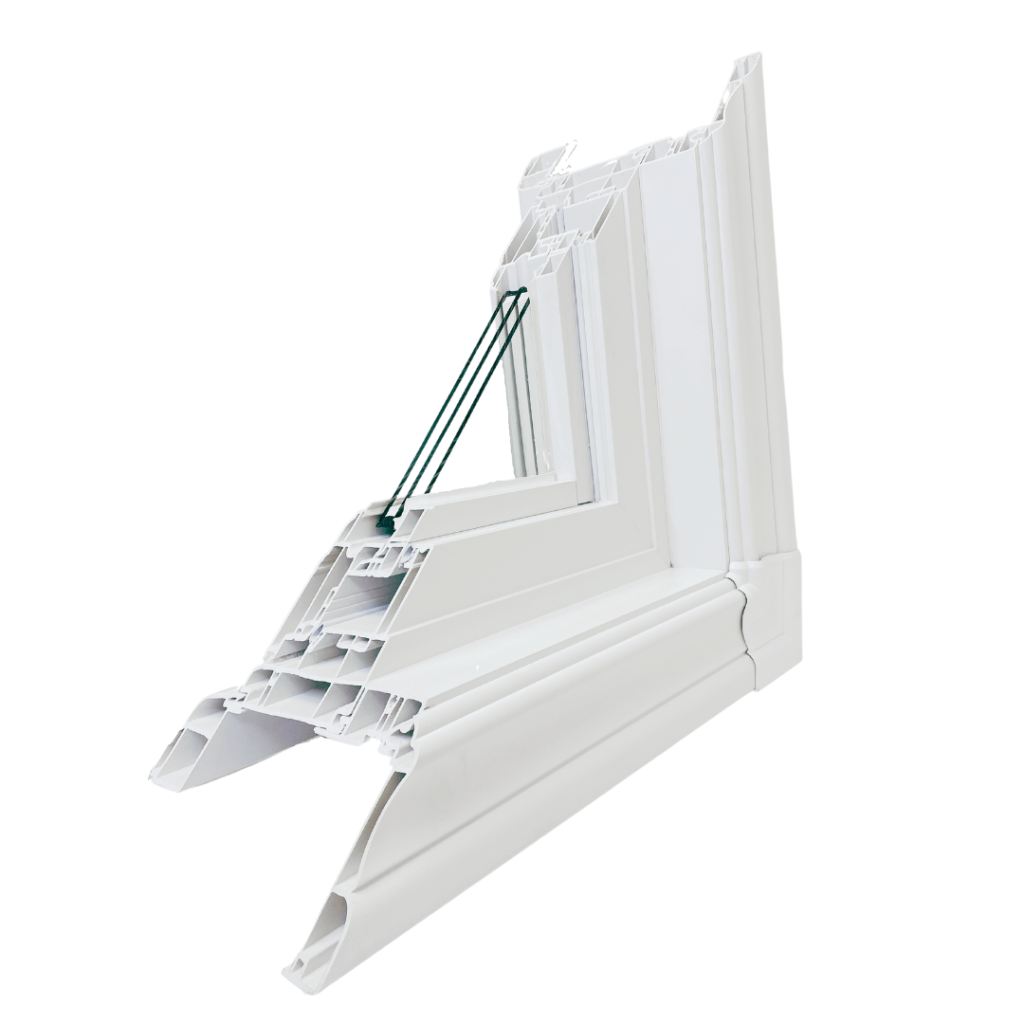 At Canglow, we are offering you 100% Lead-Free Unplasticized Polyvinyl Chloride or uPVC windows. These windows are extremely strong and will last a very long time while saving you a lot of money on your energy bill.
Thermal & Energy Efficiency
Our windows have the highest number of internal air chambers, giving you the very best insulation and sound-blocking abilities while providing the best thermal and energy performances from any window on the market.
Our windows do not require window frames, sealants and adhesives making them higher in performance and so much nicer to look at. Our windows are totally waterproof and airtight.
Unit has 13/16″ overall thickness. We offer multiple options for glazing and thickness depending on the model.
We service all the areas in Alberta and Northwest Territories from Red Deer to Yellowknife. If you live anywhere within this area, you can count on our expertise for all of your windows and doors needs. Our head office is located in Edmonton.
We provide a variety of interior vinyl trims for vinyl windows for an elegant, adaptable look. We have a combination of advanced technology along with the best materials that are not only durable and flawless but will retain their colour for years to come. We offer a variety of standard finishing options including wood stain, contemporary and classic rosettes.
We provide window jambs in four sizes to give you a seamless window installation that is perfect. For added resilience, we provide wood jamb extensions, frame moldings, and corner blocks for great longevity. These interior fittings are made from the highest-quality, durable Lead-Free PVC powder compound that requires absolutely no maintenance.
Our quality brick molds are made from a very long-lasting compound uPVC powder that is designed to withstand the harshest elements throughout the year. Our brick molds are made from maintenance-free materials that are available in a variety of colours and sizes for great longevity and beautiful curbside appeal.
Our double-paned windows with clear glass provide optimum noise protection compared to single pane glass. In terms of temperature resistance, it promotes the easy flow of hot and cold air from both inside and outside.
Low emissivity glass, or Low-E glass, is a strategic choice for lowering your home energy costs all-year-round. In winter, Low-E glass cuts down on heat loss by reducing radiant heat transfer and reflecting interior heat back into your room, where it needs to be. It also efficiently dispenses the sun's rays—allowing more of them to enter the home as usable solar energy. This provides extra warmth while minimizing reliance on heating, which can account for up to 60% of a home's energy costs.
In summer the same principle applies but the effect is reversed. Low-E glass windows help reduce the flow of hot air into the cool interior. This specially formulated coating also reduces the effects of the sun's ultraviolet (UV) rays, which are a leading cause of premature fading and degradation of fabrics and carpeting.
Triple-pane glass windows are the most energy-efficient models on the market. With the extra pane of glass, they moderate temperatures inside for optimal comfort in every season—during winter, cold air remains outside and warm air inside, while in summer the results are reversed.
Special coatings are often applied to the glass to eliminate solar heat gain and boost its energy efficiency. The extra pane of glass truly provides a new level of insulation, airflow and energy efficiency.
Heat loss will be prevented through a window's effective insulation. And it will also assist in regulating the surface temperature of the interior glass. A well-insulated window ensures an even temperature throughout the interior of the entire home. Energy efficiency is greatly increased when a well-insulated window makes it possible for a heated home to maintain a much higher humidity level. This ensures better air quality, with a reduced risk of condensation on the window panes.
If you're considering a home improvement or renovation project and are wondering what to choose, make sure you have double (or triple) glazed windows. Whereas a window has a single pane of glass, two panels of glass spaced some few millimetres apart not only is energy efficient but through this double glazing, your home will also be protected from exterior noise, keeping your house cozy warm and peacefully silent.
With an energy-efficient upgrade, as a homeowner, you'll have so many designs to choose from. But there are a variety of types that you should consider, one of them being an awning window. Awning windows are different in design when compared to most other windows, as they open outwards instead of inward, up or down.
However, awning windows are similar to casement windows, they are made for openings in which the width is greater than the height providing an interesting aesthetic design.
If your property has some historical significance, awning windows are commonly found in older homes. An awning window offers design flexibility in that a new window can be designed to blend in and to look exactly the same as your existing windows thus ensuring a consistent look is provided throughout your home.
One big selling feature for awning and casement windows is that they open outwards thus delivering lots of natural light to your home while also ensuring great ventilation for your seasonal climate.
Features of an awning window are that they are low-maintenance. Constructed out of vinyl, it helps protect against water damage. They also come in different colours to suit any type of design style and taste. Pre-finished white, dark bronze or black interiors are just to name a few. Awning windows are available in a wide range of hardware styles and finishes, grille patterns and glass options. And they also offer custom sizes to accommodate any window space, a standard size typically measures up to 6′ in width and 3′ in height. Awning windows are the perfect choice for ventilating a smaller room where a casement window isn't practical. And for a basement or attic, they can also act as an emergency egress windows.
With a selection of single, double and triple glass for better insulation they are 100% lead-free. They are highly thermal and energy-efficient. And depending upon the model you choose, the casements can open to a full 90 degrees. And being sturdily constructed, they offer a high-security multi-point locking system with stainless steel hinges and tracks.
With the use of double-pane clear glass means you will have protection from outside noises when compared to single-pane glass construction. These windows offer a smooth flow of hot and cold air, which means that it offers the best protection from temperatures.
Pros of Awning Windows Install
An awning window creates better ventilation due to their suitability to be placed higher on walls than other styles of windows. Your privacy will not be compromised, but you still will be provided more ventilation and more exposure to light. In terms of interior design, with a higher window being "out of the way", it makes it very suitable for the placement hanging of framed pictures, artwork and furniture, such as a grandfather clock. Due to its opening outward design, the window can be left in the open position when it rains thus in warmer weather allowing cool air in and keeping the rain out. And during the winter weather, when the window is closed they are airtight saving you money by cutting down on costly cooling and heating bills. And in terms of real estate re-sale value added to your property, an awning window provides a stylish, modern look to your home.
Do not use an awning window in a high-traffic exterior area as people could potentially run into them. An example of this is patio, porch, terrace, deck, or sidewalk.
An inherent part of its design means that it easily attracts dirt, which means that the windows will require cleaning on a frequent basis.
In the event of a fire, an awning window is difficult to crawl out of due to its design in the event of an emergency. The only upside to this design is that it makes the window difficult to break into in the event of a burglary.
Installation is a straightforward procedure. Make sure that the frame of the window has weather stripping applied to it, so as to ensure an airtight fit preventing any air seepage. Place the base of the window on the base of the window frame, tilt it upwards and into position. Make sure that the flashing around the window itself is taught. Next pilot holes are drilled into the frame, to screw the window securely in place. With a level, make sure that the window is centred and framed evenly and on the bubble before permanently inserting the screws. Make sure that you are content in knowing that with this window installed, there will be durability, strength and beauty to complement your design.
Shop around for the best place to get your installation done. After your research when you contact a showroom, discuss your home's requirements with the staff. Ensure that you are comfortable knowing that you are being given sound, practical advice.
World Class Energy Efficient Glass Units
DraftLOCK™ Polymer Spacer System
100% Eco-Friendly & Recyclable